Are you looking for a good hair wig? Which is superior? A great comparison would be between closure and frontal wigs. Although the two styles of wigs are comparable, they also differ.
Not only do wigs enhance your appearance, but they are also a practical means of getting thicker hair. Wigs are the ideal solution for hiding bald areas and hair loss. And wigs also have another outstanding quality. They preserve your natural hair and safeguard your beautiful skin.
If you're unfamiliar with wigs, don't worry; we've got you covered. We'll explain closure and frontal wigs in more detail below.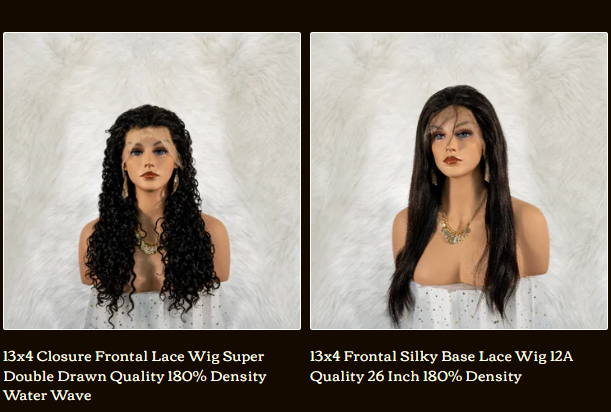 A closure is a wig with lace in the shape of a "horseshoe" that measures 4 by 4 inches. Only the central portion of your head is covered. The name closure comes from the way a wig finishes off an installation. You might want to purchase extra hair bundles since closures can only cover a portion of your head.
For an entirely seamless appearance, for instance, you may get a lace closure and three or four hairpieces. When it comes to hairstyles, the closure is offered in a variety of alternatives, including free, middle, and three-part parts.
You can separate your hair however you choose with the free part hairstyle. Because of its adaptability, it is perfect for the majority of women. Because it only gives you one styling option, the middle portion closure is a great choice if you want simplicity. But if you're more flexible, you can use the three-part closure to divide your hair into three distinct styles.
Closures are more practical and simpler to install for a beginner if you have never tried wearing wigs. Additionally, this kind of wig is considerably simpler to maintain.
Although a closure wig's usual size is 4x4, you can also find closures in sizes 5x5, 6x6, and 7x7 inches. Choose large-sized closures if you want something that will cover more of your head. But keep in mind that they are more expensive.
The Benefits Of Closure Wigs Prevents Hair Loss
You won't have any trouble fusing the weave with the texture and colcolor your hair if you use a closure wig. Since there is no requirement that you apply heat or dye a portion of your hair, matching your weave will be simple.
The only step that needs your attention is picking the colour to dye the weave and closing, which is a simple procedure. Without inflicting any harm to your hair, a closure wig enables you to select from a wide range of colors and designs.
Linger Longer
Compared to frontals, closures will be useful to you for a while. It makes no difference if you select a lace front or sew-in closure wig. Since they require less glue than frontal wigs, they are ideal for warmer climates. Frontal wigs frequently lose their glue after two to three weeks, however, this is not the case with a hair closure.
Little Upkeep
Contrary to frontal wigs, keeping and caring for closure hairpieces doesn't require any prior knowledge. Conditioning, cleaning, and styling a closure wig are the only maintenance procedures you will ever need to perform. In theory, you will just need to put on your closure in the morning and remove it at the end of the day. Thanks to its elastic bands, that is all.
Closure would be your best option if you're constantly on the go because it's great for regular use.
Affordable
A closure is substantially less expensive than a frontal wig while still functioning flawlessly because it is smaller. If you are on a low budget but still want to test this wig for the first time, you'll find this convenient.
Wig Closure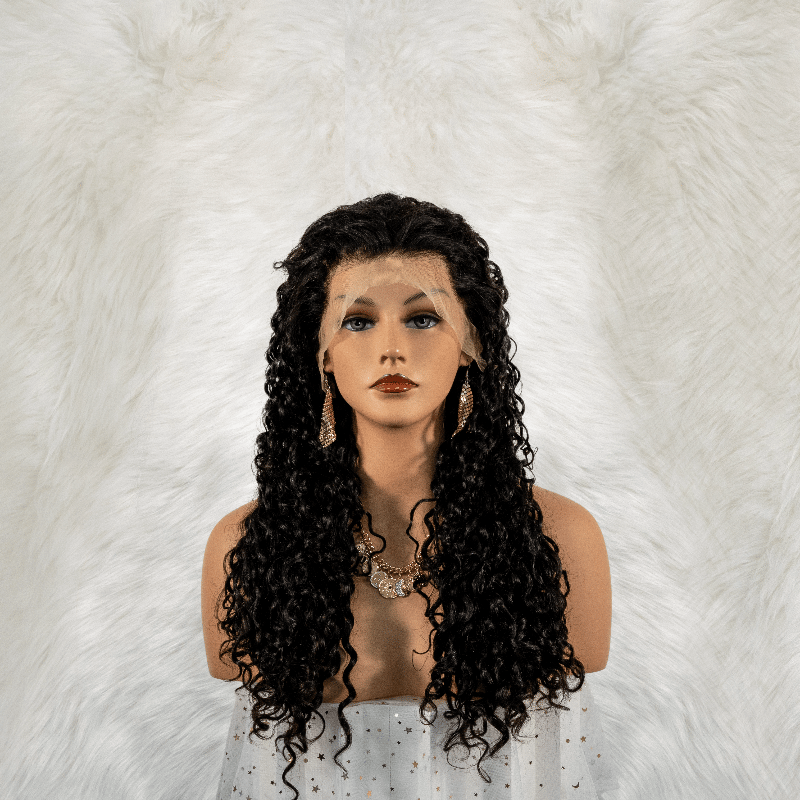 Issues with Closure Wigs

The Styling Procedure is Constrained.
Wigs with closures don't allow you as much styling flexibility. Only three styles are available: free-part, middle-part, and three-part. Closures do not allow you to draw your hair back into a ponytail or other styles, in contrast to frontal wigs that do. Therefore, it is not the best choice for women who enjoy trying new hairstyles.
Fitting Problems
There are situations when a closure won't fit well, especially if it has a silk basis. This typically occurs if you are unaware of the size of your head.
Erupts from Your Hair
Your hair can still grow if you wear wigs. Your growing hair tends to push a closure wig out of the way if you wear one. If that occurs, you would need to alter your wig every four weeks, which would require multiple visits to your hairstylist.
A Frontal Wig: What is It?

Wig Up Front
A wig that can cover the front of your head from one ear to the other is called a frontal hairpiece. Its dimension of 13x4 inches will offer you a more natural appearance. Despite being stitched into bundles, it can be used to create a whole wig. 
Frontal provides you the choice to select either one or the other depending on the aesthetic you want to achieve.
You will enjoy wearing a frontal wig if you desire something easy and comfortable. Thanks to its lightweight design, it allows your scalp to breathe. The wig's hair strands are constructed of incredibly sturdy lace, and it is lifelike.
Frontals can be worn in a variety of ways because of how flexible their lace material is. This kind of wig may be styled into an extremely realistic side ponytail, half ponytail, or low ponytail. You can arrange your hair in a variety of ways using this item. It is a great option for folks who enjoy mixing up their appearance.
Keep in mind that because they offer more material and are more adaptable, frontals are typically more expensive than closures. Once you've used it, you'll understand that the cost is fair and well worth it.
Frontal Wigs' Benefits

Gives Your Hair Room to Breathe
Usually, wearing wigs and sewn-in extensions during warmer seasons causes extreme discomfort. With frontals, however, there is a steady flow of air into your hair and scalp. Even during the heat when you are on vacation, you can always count on comfort.
Stylistic Flexibility
With a frontal, you may arrange your hair in any way you like without anyone seeing that it is a wig. Rock any hairdo that makes you happy, whether it's braided or tied in a low, high, or asymmetrical ponytail. You'll think you're shaping your hair because frontals don't harm your natural hairline.
Short Installation Period
Frontals are quick and simple to install. This wig can be installed in less than an hour on average. Sew-in ponytail extensions should be fixed in two to four hours. But that depends on the fashion you select. 
A frontal wig is preferred by women who don't like to waste time getting dressed every day and who want to preserve their natural curls.
Issues with Frontal Wigs

Prone to Hairline and Scalp Damage
Insufficient care for a frontal wig can seriously harm your scalp and hairline. A long contract can irritate you because the frontal s are attached to your scalp and skin using tape and glue. There are alternatives and methods to make a flawless lace front installation, and I'm here to assist you! If your skin is sensitive, you can encounter this. Additionally, if you incorrectly remove the frontal, you risk harming your hairline.
High Level of Upkeep
Because you have to bleach the knots, tweeze, tint, cut the baby hairs, and attach the natural hairline, installing a frontal wig can be time-consuming. In addition, if you choose a sew-in frontal, you have to go to the salon every week.
Pricey Compared to Closure Wigs
Frontals have a natural appearance, are comfortable, and available in a variety of styling options, so even if you'll have to pay a little more, it doesn't hurt.
What Distinguishes a Frontal Wig from a Closure Wig?

The following are some key distinctions between closure and frontal:
Size
While frontals can cover your complete hairline, closures can only cover a limited portion of your head. You can get frontals that are 13x4 inches in size in addition to the regular 4x4 inch closure size. 
Please take note that we are not discussing the length of your hair system, but rather the lace material.
Versatility
Both wigs have a variety of hairstyles, although frontals have more styling options than closures. A frontal completely conceals the hairline, allowing you to dress your wig or extension however you like. Closures limit your styling options because there is less material and hair available to work with.
Convenience
Contrary to closures, which require little maintenance, frontals require a lot of twerking during installation to get a common appearance. The tinting, tweezing, plucking, and cutting of your baby hairs are further steps in the creation of a frontal wig.
Frontals only last about two to three weeks because of how rapidly their glue wears out. Closures last longer with careful care, and you can change your wig every month. Additionally, closures are ideal for hot weather because they require less adjusting gluing.
Frontals are generally more expensive because they are more versatile and contain more material. Additionally, this style of wig is viewed as partly finished. Closures, on the other hand, are less expensive because they are practical and simple to maintain.
Which Wig Is Better, a Frontal Wig or a Closure Wig?
It all comes down to your own opinion when deciding between a closure and a frontal. The two wigs are lovely and offer you a respectable appearance. Your budget and how frequently you're willing to change your hairdo are a couple of the variables that could have an impact on your choice.
A frontal is an ideal choice if you like a wig that can be worn in different situations. You can choose a closure wig at a lower cost if you're content with a limited number of hairstyles. We think you'll choose the option that best matches your hair as both are wonderful with correct maintenance.